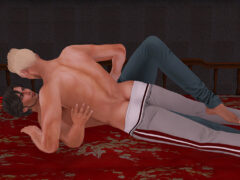 Early 20th-century Chinese day bed or opium bed with 6 rich printed fabrics in dark finished rosewood. The bed holds 100 couple animations for 2 men, 40 pg animations, and 60 adult animations. The bed has 4 long adult sequences, 6 rezzing scenes and gives 10 wearable items. It has AVsitter experience enabled for true auto attaching of props and is compatible with Aeros and the Physics Cock for automatic tilting.
——-
SPECS
Land impact of 11 prims.
100% original mesh.
Mod and copy.
You need 31 prims extra on your land for the biggest of the rezzing scenes, the breakfast for couples.
——-
REZZING AND FIRST USE
Give the engine and the scripts some time to load, it will take a bit of time. Then sit on the bed and a menu appears. First sitter has more bottom directed animations, the second sitter is the top. If you feel you are in the wrong animations, click the SWAP button in the main menu.
——-
OPTIONS
Colors, security, facial expressions and poses can be adjusted under the ADJUST menu.
• Colors: choose between 6 different colors for the fabric.
• Security: makes your furniture usable by Owner, Group or All.
• Pose: enables discrete real-time adjustment of the poses.
• Faces: turns facial expressions on or off. (Does not work for mesh heads).
——-
AEROS AND THE PHYSICS COCK
If one of the players is wearing an Aeros or The Physics Cock, this furniture can automatically rotate it to the best position for the played animation.
In order to have it working, you need to change one setting in your Aeros cock.
Touch your Aeros cock to get the menu. If the cock is hidden, show it with the HUD.
Click "Devices" on that menu, then select "Auto" mode.
Make sure that "Level" (also under the "Devices" menu) is set to at least 2.
——-
FULLY AUTOMATIC ATTACHING OF PROPS
If you have the AVsitter experience enabled on your land and in your avatar's settings, the furniture's props will automatically attach to your avatar, without asking permission. To enable the experience of fully automatic attaching, AVsitter experience has to be enabled in both the land settings and your own.
Read about the steps below or watch this tutorial video: https://www.youtube.com/watch?v=3gcy403FtAk
——-
HOW TO ENABLE AVSITTER EXPERIENCE
1: Go to the World menu in the top bar of your screen, choose About Land, Parcel or Region details, then go to the last tab named Experiences. Click on the Add button for Allowed Experiences, type in AVsitter and add it. If you don't have the rights to do this, ask your landlord to do it for you.
2: If the Land has the AVsitter experience enabled, the furniture will ask you to allow the experience yourself, when the first prop comes up. Just click yes.
You can also add, manage or delete experiences by going to the Me or Avatar menu in the top bar of your screen and choosing Experiences.
——-