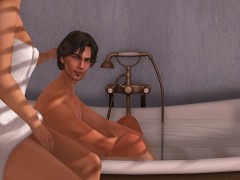 Dutchie's painted iron cast bain de bateau with its distinct boat-like shape is based on a classic 19th-century french design. The cast iron shell gives it solidity and heat retention, the hand-made enamel interior is smooth as silk. The out layer of metal is changeable into 5 different colors.
The adult bath has 10 single and 80 couple animations, 4 long sequences with each a different character, and the smoothest, most realistic, long high quality animations in SL, from loving and tender to rough. 10 couple and 3 single animations come with a rezzer scene of candles. Temp attach props like glasses or a book are supplied by the bath when the right animation plays.
The bath is compatible with Aeros and the Physics Cock for automatic tilting.
——-
MANUAL
When you rez the bath, give the scripts some time to load, it may take a while, as this is a very full engine.
There are no balls, just right-click the bath and sit on it, ladies first.
The bath will offer you temp attach wearable objects when you come to the right animations. PLEASE NOTE: The question for permission to attach these to you, is in some viewers hidden behind the menu window. Please close that if you think you feel a prop is missing. The props will automatically detach when you change to another animation.
——-
OPTIONS
Water, colors, security, poses, and facial expressions can be adjusted under the ADJUST menu.
• Water: choose between 3 different sounds, adjust the volume or turn the sound completely off.
• Colors: choose between 5 different colors for the cast iron shell.
• Security: makes your furniture usable by Owner, Group or All.
• Pose: enables discrete real-time adjustment of the poses.
• Faces: turns facial expressions on default avatars on or off.
• Bentoface: turns facial expressions bento mesh heads on or off.
——-
AEROS AND THE PHYSICS COCK
If one of the players is wearing an Aeros or The Physics Cock, this furniture can automatically rotate it to the best position for the played animation.
In order to have it working, you need to change one setting in your Aeros cock.
Touch your Aeros cock to get the menu. If the cock is hidden, show it with the HUD.
Click "Devices" on that menu, then select "Auto" mode.
Make sure that "Level" (also under the "Devices" menu) is set to at least 2.
——-
SPECS
Land impact of 5 prims.
100% original mesh.
Mod and copy.
——-
In case of problems:
You can reset the scripts by rightclicking the bath, choose edit, then go to the Build menu in the top bar of the viewer, choose scripts, then reset scripts.